North Korean leader Kim Jong-un invited foreign tourists to camp, surf and explore beaches in eastern Korea to make the area a favorite destination for international travelers.
Surfing is an exciting sport that brings excitement when riding on the top of the waves for surfers. Now, this sport is becoming more and more popular and is no longer too complicated on natural surfing skills.
Surfing is classified as extreme and very interesting sports in Europe, the majority of men. Many scientific researchers have also shown that surfing in particular and adventure sports in general bring unexpected benefits that not everyone knows. There is also an opinion that it brings the experience and feeling as great as mindfulness meditation.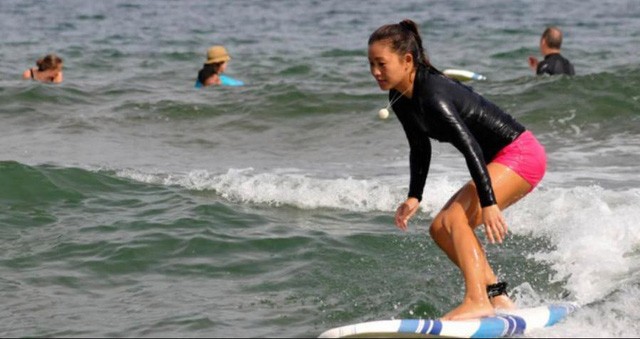 Kim Jong-un also invited top surf experts to explore resorts in the eastern sea of ​​Korea. A group of 20 foreign visitors from the United States, Italy, China and Germany have been licensed and are on their way to beaches in eastern Korea for camping.
The group was led by Italian surfer Nicola Zanella, with the participation of Andrea Lee, the director of US tour operator Uri Tours, and the Chinese national surfing team. The group's schedule includes exploring the beaches, shorelines, oceanic environments and weather to find the best places for surfing.
Italian surfer Zanella thinks the area around Sijung city, a 6-hour drive from Pyongyang, is a great place to surf. Here, with the primeval forests running straight to the golden sand bay, is an attraction for surfing. Camping activities are usually held every September here because the monsoon season from Japan blows in the east and northeast so there are big waves to surf", Zanella said.
A package tour of here costs £ 1,800 per person, including surfing lessons, subway tickets from the capital Pyongyang and tickets to the demilitarized zone bordering Korea. Alternatively, guests can enjoy dinner with a barbecue on the beach.
The North Korean leader's decision to open up tourism is to revive the country's tourism industry after a sharp drop in international arrivals last year, a 40% decline, due to concerns about the Ebola epidemic and tightening of migrants.